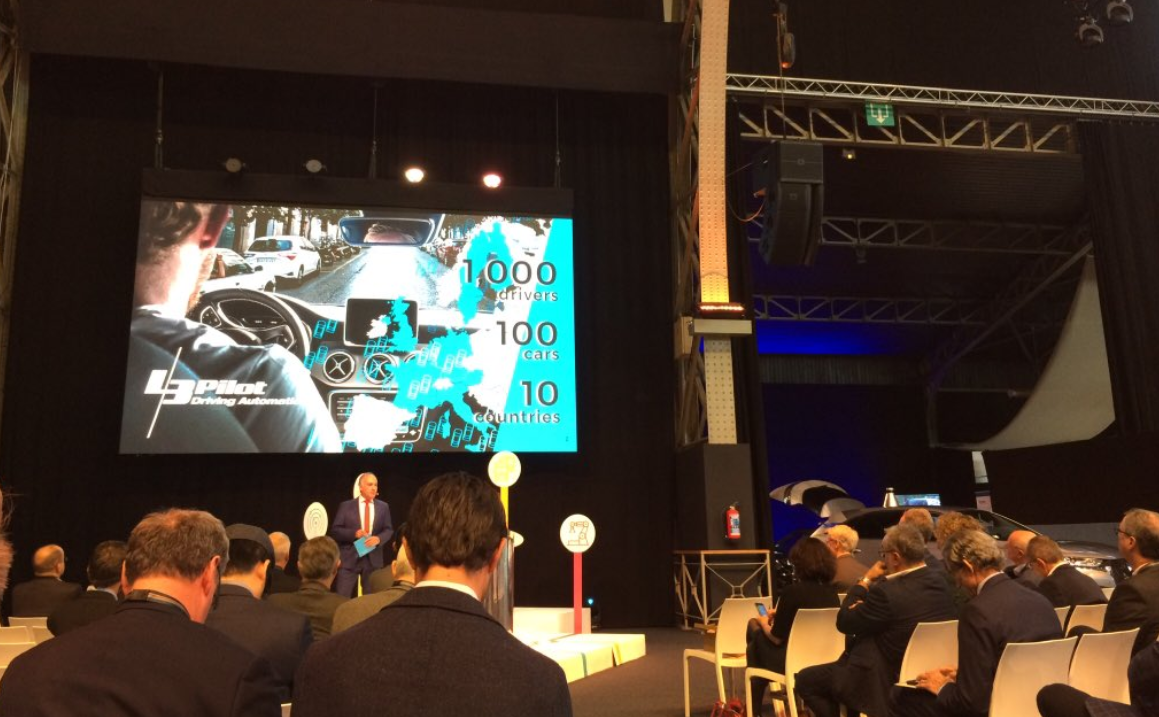 The research project L3Pilot, co-funded by the European Union under the Horizon 2020 programme, tests the viability of automated driving (AD) as a safe and efficient means of transportation on public roads. All L3Pilot cars are series production vehicles that have been modified by installing a variety of sensors and technical equipment, including data loggers. It will focus on large-scale piloting of SAE Level 3 AD functions, with additional assessment of some Level 4 functions. The functionality of the systems will be exposed to variable conditions with 1,000 drivers and 100 cars across ten European countries, including cross-border routes.
While the ramp-up of the tests is ongoing, partners proceeded in the second showcase of automated driving systems that took place during the 2019 Annual Reception & Conference of the European Council for Automotive R&D (EUCAR) in Brussels on the 6th and 7th November 2019. Eleven fully equipped passenger cars were displayed for the showcase "Piloting Automated Driving on Public Roads". The I-SENSE Group, as L3Pilot project partner, attended the 2nd showcase and participated among with the rest of the consortium in presenting the interim results of the project, including our work in cybersecurity analysis, to leading representatives from the European Commission and industry.
Achievements and outlook: L3Pilot partners by now have jointly defined the general methodological framework for the test procedures and evaluation of the results. It will be applied to the tests by all vehicle owners. All test sites and partners specialized in methodology and evaluation have been working together to define and implement a common experimental procedure ensuring successful evaluation at the end of the project.
L3Pilot partners achieved to agree on a data sharing framework allowing for pre-competitive co-operation and developed a common data format for which the algorithms have been published as open source on GitHub https://github.com/l3pilot/l3pilot-cdf.
L3Pilot has also started the data collection with a worldwide survey aiming to measure user acceptance of the tested technologies.
L3Pilot project is consisted of thirty-four organisations that have committed to scientifically test and assess the impact of automated driving systems on driver comfort, safety, and traffic efficiency as part of the project. It started in September 2017 with duration 48 months. You can find out more about L3Pilot at: https://l3pilot.eu/