Research activities
Our team has been working with the technology of Virtual Reality and with Virtual Environment since 2004, while the past years is focusing also on Augmented Reality.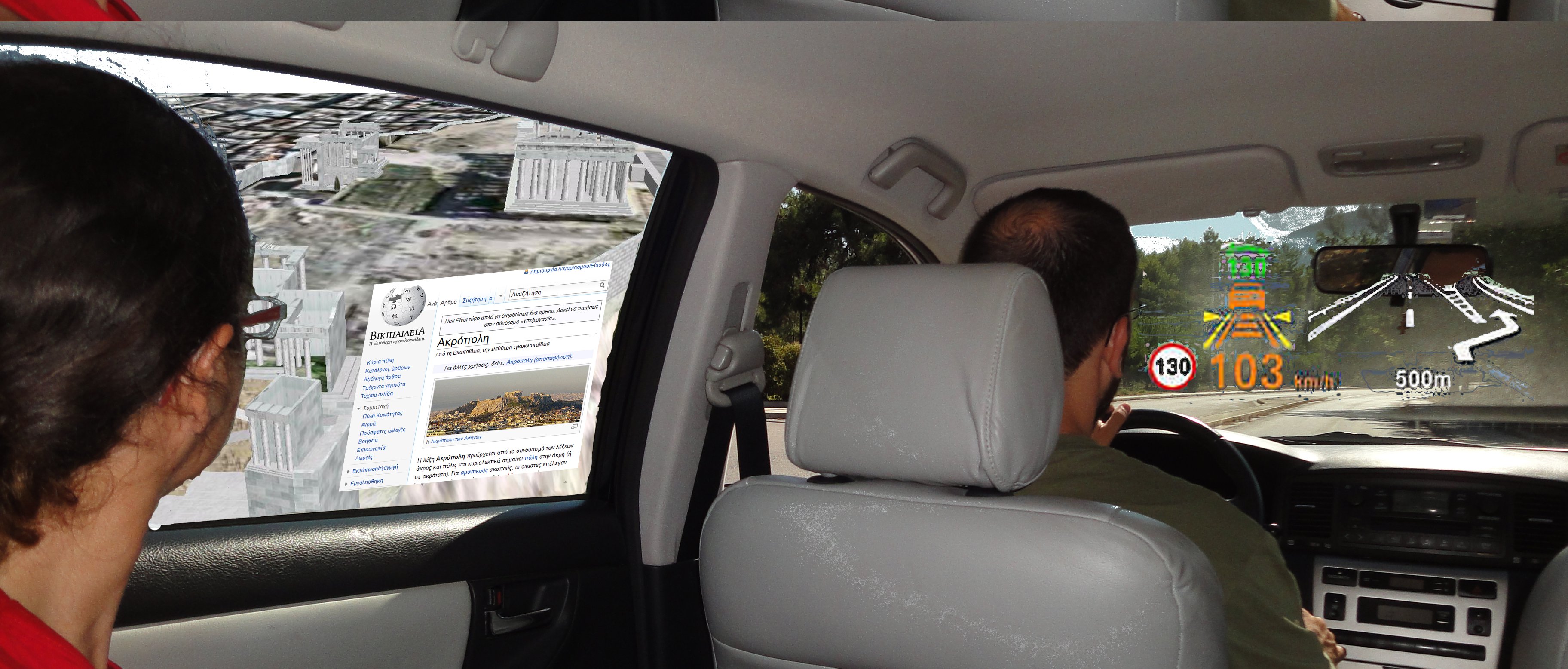 We have developed in the past applications covering a wide range of domains, including support for astronauts in their daily activities, remote support, assembly support, remote support, assembly support, training of workers in hazardous environments, developing games for children with special needs and other. We are constantly working in current state of the art research questions in VR and AR.
We have also worked in the frontiers of VR trying to make an airplane disappear, virtually teleport to Mars, or create the car of the future.
Lately, the team is focusing also on Cultural Heritage and specifically with the involvement of citizens in all aspects of Cultural Heritage.
We are participating in both EU-funded projects, as also national project including some direct cooperation with the industry.
HYPERION: Improve Resilience and Sustainable Reconstruction of historic areas to cope with Climate Change and Extreme Events
PLUGGY: Enabling citizens to present and promote local cultural heritage
NextGEN: Citizens awareness for water management
Smartflex: Supporting pickers in warehouses through Augmented Reality
ManuVAR: Support of manual work through the Lifecycle of a product
Virthualis: in VR training in hazardous environments
HILAS: VR simulation of maintenance in avionics
INTUITION: Network of Excellence in Virtual Reality
VIEW: developing of best practiese for industrial implementation and use of VR
Sport for all: VR simulation for accessibility of disabled people in sport events
SAFEGUARD: evaluation of occupational safety of professional drivers
TrainALL: develop a computer-based training system for different land-based drivers
VR-Hypespace: Design of the aircraft-cabin in 2050
GameAbling: Designing Games for children with cerebral pulsy.
I-SENSE has also an extensive experience in organizing events, like a number of INTUITION workshops, JVRC conferences and summer schools.
The ICCS VR group was interested in developing generic toolkits and collaborative 3D, AR and VR environments based on its experience in standardization issues relating to both software and hardware. The rationale for these environments are that they should be applicable to both low-cost and multi-million dollar installations.
The VR team is also closely cooperating with the activities of Biomedical section at neuroscience research.
Product Lifecycle Integration in Virtual Reality
In the context of the EC Project ManuVAR, the VR team designed and implement a system to support communication between the different stages of a product lifecycle. This system, called Virtual Model, aggregates information from applications running in different stages and propagates the relevant data to other interested applications.
Training using Virtual Worlds
This application offers the ability for real condition training to all workers of factories handling hazardous materials using a virtual factory and an innovative presentation of tools and machinery. The person under training has the ability to navigate in the factory, to interact with 3D models taking a small idea about their behavior and functionality and deal with some special conditions like the realization of emergency operations.
Evaluation in Virtual Environments
The VR team has extensive experience in evaluation procedures in Virtual Environments, including evaluation of products, like interaction devices (VIEW) passengers seats (SAFEGUARD) or evaluation of presence and usability (TROY)
Learn more about our overall activities through the VR-AR team leaflet available here and the respective general roll-up banner available here. In addition, the ongoing research and activities performed within the VR& AR team of the I-SENSE Group are shortly presented at the following roll-up banner (pdf).