ISENSE Group of ICCS had an active participation at the 15th ITS European Congress that took place from 22 May to 24 May 2023 in Lisbon, Portugal. Dr Angelos Amditis, our group director and also ERTICO's chairman opened the conference and participated in a number of activities and plenary sessions. I-SENSE group also participated in the Congres' technology exhibition hosted in the booth of ITS Hellas.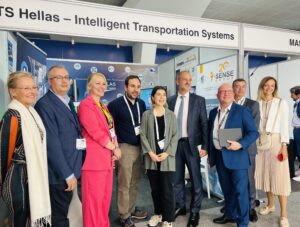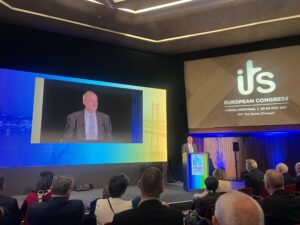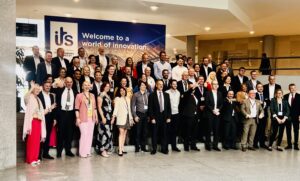 On May 23rd, Dr. Evangelia Portouli kicked-off our teams' activities in the technical programme, with a presentation during the Special Interest Session on 'Challenges and innovative solutions for passengers and goods', that was organised by the IN2CCAM project that our team is involved in. Together with the project's coordinator Maria Pia Fanti (POLIBA), they delved into the different ways the project will enable automated vehicle integration into the mobility and transport system by deploying innovative technologies and services. Later that day, Dr. Portouli also represented the EU project MOSES with a presentation during the special session on 'Improved and innovative cargo logistics with small autonomous ships', together with MOSES' sister projects AUTOSHIP, AEGIS and SEAMLESS.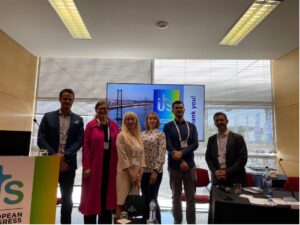 The eCharge4Drivers project that I-SENSE Group is coordinating was presented in the Special Interest Session 48 "Fast, efficient & user-friendly EV charging: making interoperability a reality", which was organised by Dr. Angelos Amditis, eCharge4Drivers Project Coordinator and Chairman of ERTICO. The session included presentations of the eCharge4Drivers's sister projects, USER-CHI and INCIT-EV. From our team Dr. Evangelia Portouli introduced eCharge4Drivers to the audience and presented the project's user-friendly battery swapping services developed in the project's demonstration sites in Berlin and Barcelona. Moderated by our Communications Manager, Dr. Ioanna Doutsou, the session focused on interoperability of EV charging to boost the uptake of electric transportation options and exchanging best practices for interoperability of EV charging and recommendations for ensuring user-centric electromobility.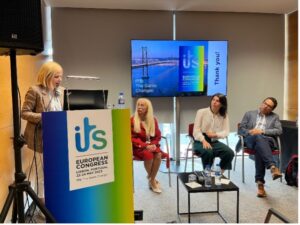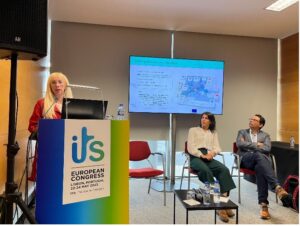 eCharge4Drivers Session
At the last day of the Congress, our team participated in three more project presentations. Anastasia Bolovinou, Research Engineer at ISENSE-Group, showcased our work in the EU flagship project on Automated Driving, Hi-Drive, which was featured as part of the technical programme during the session on "Extended and defragmented Operational Design Domains for higher automation". The session was moderated by Suzanna Kraak from the DG RTD of the European Commission and led by our project partners Aria Etemad (Hi-Drive project coordinator/Volkswagen AG – Germany), Francesco Bellotti (Università di Genova – Italy), Satu Innamaa (VTT – Finland) and Michele Giorelli (Aptiv – Germany).
Hi-Drive panel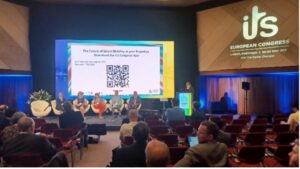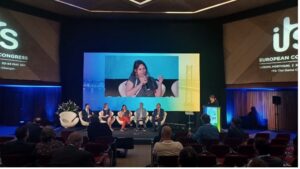 The EVENTS project was presented in the special session on 'Challenges of multi modal ML-based perception development & testing for automated driving applications', together with ROADVIEW & GAMMS projects. The session was organised and moderated by Anastasia Bolovinou.
EVENTS session speakers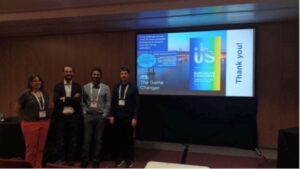 For our last presentation of the day, Anastasia Bolovinou represented 5G-IANA at a joint Special Session with 5G-PPP projects 5GMETA, VITAL-5G and 5GASP on 'Creating new ITS services and applications enabled by 5G', also informing the audience about the project's ongoing Open Call.
5G-IANA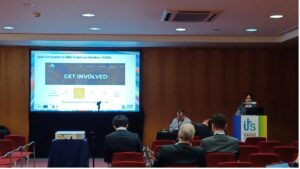 Earlier on the last day of the Conference, the PoDIUM project that our team coordinates, was invited to present its innovative approach to help accelerate the implementation of CCAM technologies at the European Commission's stand. Alongside the SINFONICA and IN2CCAM projects, where our team is also involved in and which are all part of the CCAM partnership, PoDIUM was showcased as an example of key drivers for seamless CCAM integration and deployment in Europe.
Throughout the Congress, visitors could also find out more about our activities and discover ongoing projects that we coordinate or are heavily involved in, such as eCharge4Drivers, 5G-IANA, Hi-Drive, PoDIUM, Cityscape, EVENTS, MOSES, SHOW, through printed material and videos showcased at the ITS Hellas booth.